Details Are Important When It Comes To Building Your Business Branding
Today, it seems that everyone is advertising free websites. Although free no cost websites sound like a great deal, are you willing to bet the reputation and success of your company on the free web design options? As with most things in life, you get what you pay for!
It is important to understand that nowadays everything is digital, and your business is not the exception. Your potential customers are going to look for your business online and the quality of what they're going to find is up to you. What type of first impression are they getting when they visit your website? Does your website properly represent your business and make potential customers want to call you, or make them want to look elsewhere?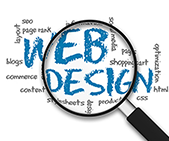 Having a professional website will create the best business opportunities!
Designing and maintaining a website is time-consuming and difficult. Managing the design, optimizing for Google, ensuring that your websites look good on all mobile devices and handling updates on time can easily become a full-time job.
A proper Web Designer will allow you to spend more time running your business and not having to worry about all the information you need on how to create a website.
Here at Web Design Rock Hill SC, we're going to tell you the benefits your business will get from a Web Designer:
Making Your Website Unique

There are about millions, even billions of web sites on the Internet. How are you going to make yours stand out from the most popular websites? A professional designer is able to create a web site that is unique to your business, pleasant on the eye, have clear and easy navigation, load efficiently, and work properly in all the major browsers. That way you don't need to trust on free web design templates online.

Making It Easy To Use


A professional web designer will keep your visitors in mind by making it easy for them to navigate and travel around the web site without getting confused.

Making It Search Engine Friendly


One of the most important factors about a web site is its presence in the search engines. A professional designer will know how to design your site so that it is Search Engine Friendly.

The Difference Between Homemade And Professional


There is a huge difference between a homemade web site and a professional web site. A Web Designer knows everything about how to make a website. Having a professional web site will provide you with professional web design tools and a sense of security about your products and services that no homemade web site can do. Who knows that extra sense of security will help you sleep better at night.
Greater Credibility for your business
Having a professionally designed web site will enable your small business to compete with larger companies. A professional designer will be able to make a smaller company look like a larger company; therefore, giving small companies as much credibility as the large companies.
Making your business trustworthy
A good web designer will be able to find ways to convey your trustworthiness through the use of images or text. This lets site visitors know there is a real human on the other side that is worth doing business with.
Check Web Design Rock Hill SC for more information on how to create the perfect website for your business plan.